Our unique value proposition lies in assuming and managing environmental liabilities.
RestorCap acquires, remediates, restores and repositions environmentally distressed properties in urban areas for innovative land reuse. We assume and manage environmental liabilities, transforming blighted urban sites including Superfund locations into vibrant, sustainable communities.
We structure transactions that relieve sellers of their environmental burden while capturing the market value of restored brownfields by returning them to productive use. We take pride in facilitating trust and communication among oversight agencies, local communities, sellers and buyers in every transaction.
Our unique approach brings together remediation, restoration, and reuse, revitalizing land while preserving ecological integrity. With major financial backing, we create value by both unlocking the potential of distressed properties and fostering community revitalization.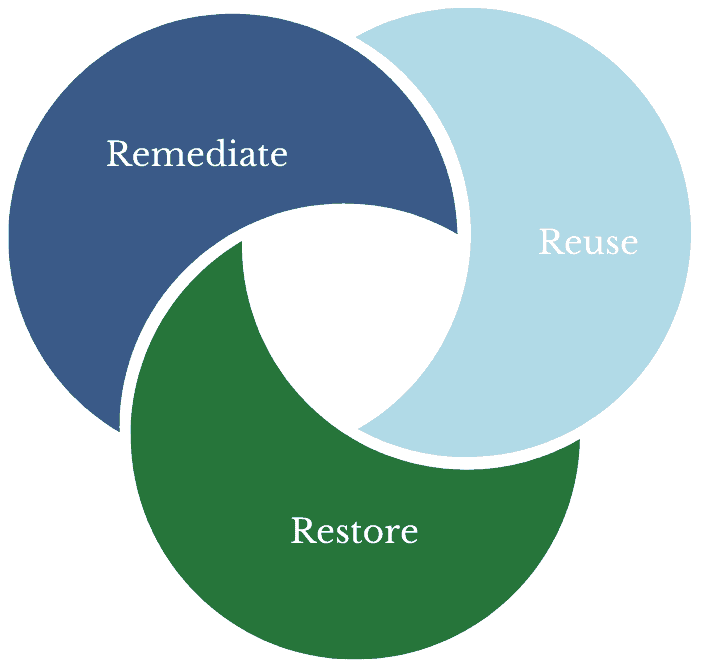 We acquire and cleanup brownfields. Our remediation expertise focuses on comprehensive site assessment, valuation, cleanup strategies, and regulatory compliance. We remediate contaminated lands, ensuring environmental safety and regulatory closure. Assuming the remedial obligation of sellers through a Prospective Purchaser Agreement (PPA) with environmental agencies in the relevant jurisdiction is the cornerstone of our risk management strategy. 
We use an integrated approach in our site designs to leverage existing ecosystems and natural resources. Through ecological restoration, we revitalize natural habitats, rejuvenate waterways, and enhance biodiversity. Our restoration efforts conserve the natural world, regenerate the economy, and cultivate a sustainable world for future generations to come.
We bring innovative ideas that redefine highest and best use for our restored sites, creating green benefits for local communities. We employ creative solutions that transform abandoned industrial sites beyond redevelopment ranging from mitigation banking to organic soil amendment production.